Rental Bus in Rome
Finding a reliable bus rental company can be daunting and stressful.
MMA offers a wide range of bus rental services that can meet any need and requirement, offering an extensive fleet of vehicles. . MMA Autoservizi Rome is glad to offer its services upon being contacted. A pleasant collaboration will surely prove beneficial for you.
For all your bus rental needs for parties and events in Rome, MMA – Autoservizi is the right solution. From executive transportation to minibuses and coaches, we guarantee the peace of mind our clients long for..
Book now
We offer a chauffeured shuttle rental service to transfer you to any destination you choose, at any time and exactly where you want to go.
Book now
We offer coaches and minibuses than can be rented for organized trips of all kinds, from a simple excursion to a multi-day tour. Organized bus trips are the perfect solution for your group travel.
Book now
We hold an over twenty-year experience as a company featuring well-trained drivers, offering safe and sound transportation for your travels. Whether you are visiting Italy from abroad or need transportation within the country, we can help you.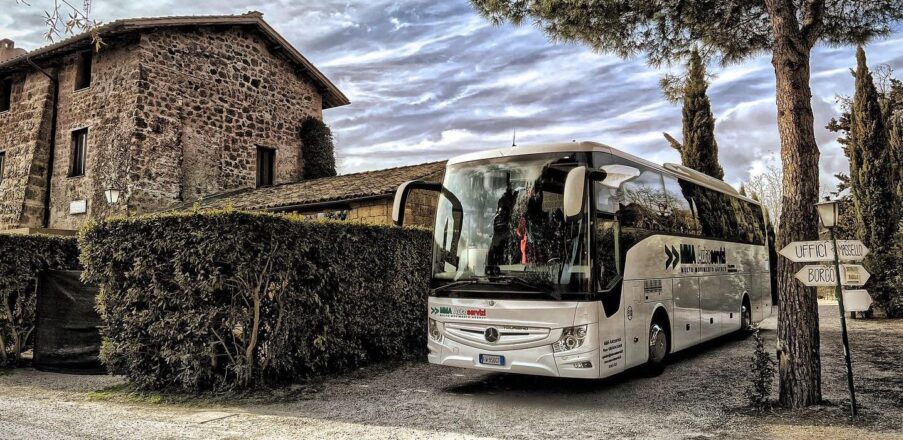 DEDICATED 24/7 ASSISTANCE
Dedicated 24/7 assistance. Book a vehicle from our fleet and contact us without obligation for personalized requests or quotes; our professional and experienced team will follow you and suggest the best solution based on your needs.
WIDE FLEET
We have a fleet of EURO 6 class buses and minibuses, consisting of more than 30 units, of any size and with the same graphic design to be easily identifiable by clients offering conference services.
MULTILINGUAL OPERATIONS OFFICE
Despite having been set up not long ago, our company is a point of reference in Rome in this field for our high quality. We offer latest generation coaches, professional drivers and a multilingual operations office (English, French, Spanish, Arabic) available 24/7.